Invisalign Treatment and Its Advantageous Effects on Teeth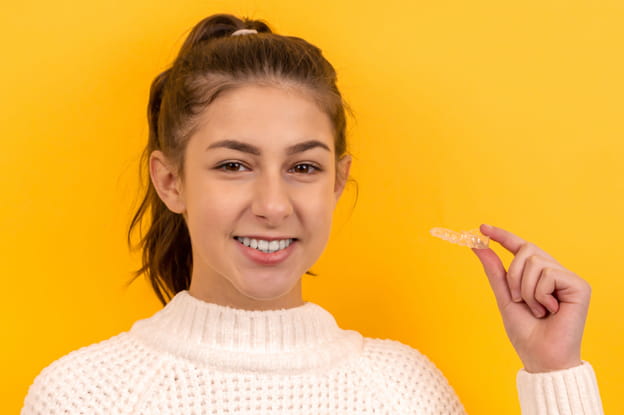 There are millions of people around the world who have gotten their Invisalign for a smile transformation, however these patients are unsure about how Invisalign treatment in Richmond improve their smile, move the teeth and what they are made out of and the loads of benefits that Invisalign treatments give.
How Do Invisalign Move Your Teeth?
This orthodontic treatment uses force to move the teeth. The force is applied through the pressure from the braces fixed on the teeth. The arch-wire moves the teeth into an alignment and the elastics used in the braces pull the jaw into alignment.
Invisalign or clear aligners apply force on the whole teeth. Every tray is slightly different from the previous one so that the force applied is in different areas every time it changes. The average movement of the teeth is 1/10 of a millimeter. Invisalign in Pecan Grove helps to move the teeth in proper alignment with small changes.
How Are the Invisalign Made?
All dentists start off an Invisalign treatment in Katy by taking x-rays and digital scans to understand the repositioning of the teeth. This will be sent to the Invisalign lab to get the aligners made. A 3-D rendering of your teeth will be made with the help of a computer model of how every tooth will shift to its needed position. This is done using the best advanced 3D printing process and finally the customized Invisalign in Rosenberg will be shipped to the concerned dental clinic.
Wherever you choose to get your Invisalign in Rosenberg, Richmond, Katy, Pecan Grove or Greatwood they follow the same methods.
The materials used to make them are multiplayer aromatic thermoplastic polyurethane / copolyester.
Benefits of Using Invisalign in Greatwood:
1. Transparent:
Nobody can tell whether one is using Invisalign trays as they're invisible.
2. Comfortable:
The smooth plastic materials used in Invisalign are very comfortable unlike braces with metals.
3. Removable:
Invisalign trays are easily removable, thus brushing and flossing your teeth is very easy. The removed trays can also be cleansed well before fixing them back.
4. No Food Restrictions:
You can eat what you want without any food restrictions, usually some of your favorite foods are hard, chewy, or sticky and you are advised to stay away from them when a teeth straightening method is used but this does not exist in Invisalign.
Conclusion:
Now that you know how Invisalign in Richmond are made and how they move the teeth, call Sally A Abouasaff, DDS at Family Dental Corner and set up an appointment. Family Dental Corner serves communities in Greatwood, Pecan Grove, Richmond, Rosenberg and Katy. Visit our website for an appointment right away!
---