Invisalign for Incredible Smiles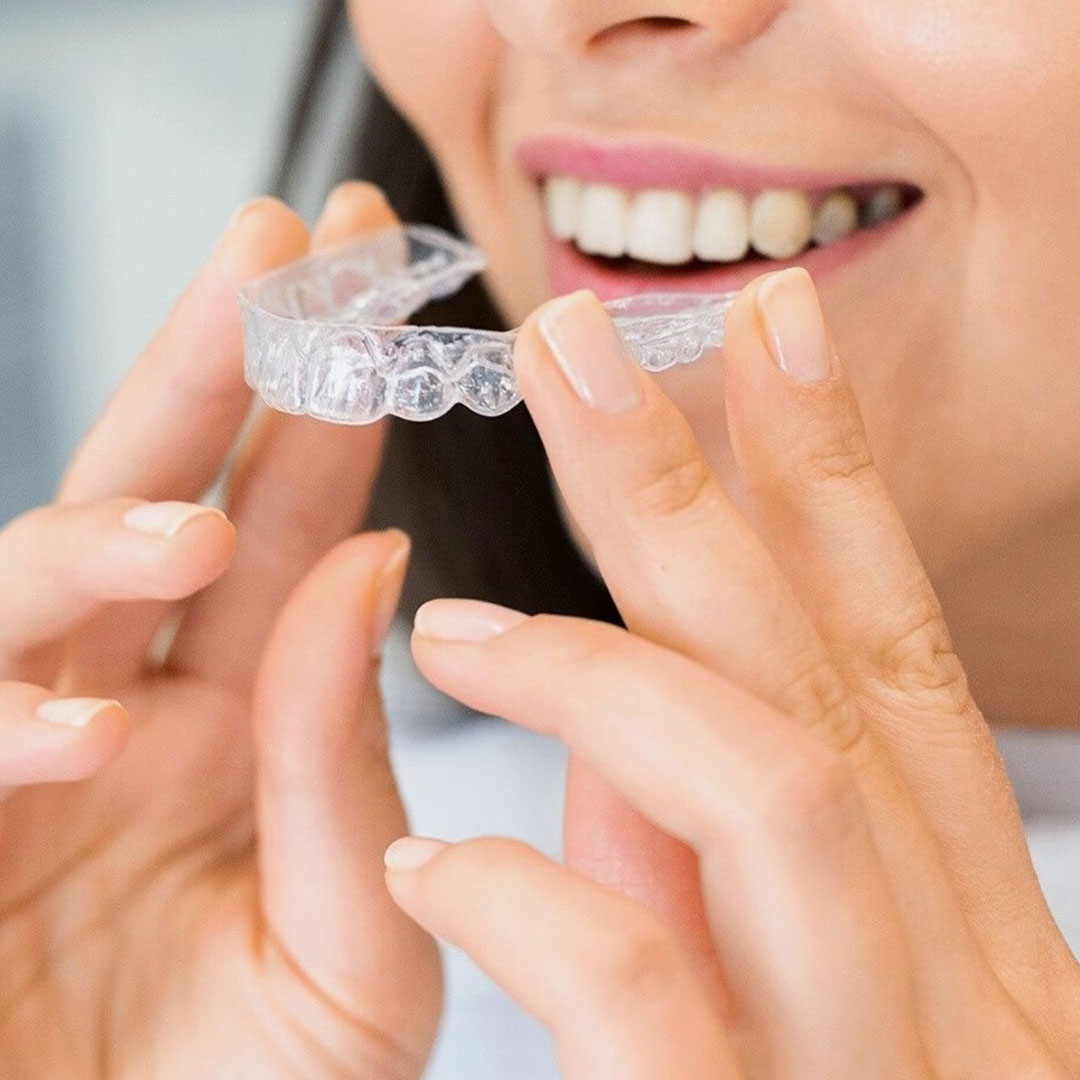 An orthodontic expert and Invisalign-certified provider, Dr. Sally Abouassaf has been an advocate of the path-breaking technology ever since she started using it for her patients. As per Dr. Abouassaf, "Invisalign® is one of the greatest advances in orthodontic treatment in recent years."
With its innovative application, Invisalign provides the much-desired opportunity for many patients who wouldn't consider themselves suitable for traditional metal braces to smile better without any visible (and embarrassing!) signs of treatment.
What Is Invisalign?
Invisalign is a modern orthodontic treatment that offers an alternative to traditional braces.
Invisalign utilizes customized aligners made of clear plastic material to shift the teeth into their desired positions. These aligners are designed to be nearly invisible, making them very attractive among adults seeking discreet and comfortable orthodontic care.
If you are considering Invisalign in Katy, it is essential to meet with an expert practitioner who can evaluate whether your irregularity can be addressed using clear aligners. According to the company, these may include:
Crowded Teeth: When teeth are crowded or overlapping due to a lack of space, this is known as malocclusion.
Gap Teeth: This is an issue of spacing between the teeth.
Overbite: For the majority of individuals, their upper teeth overlap with lower ones. Unfortunately, a deep bite can lead to significant discomfort and even dental issues if left untreated.
Underbite: The lower teeth meet the upper ones when they come to rest in this position.
Open Bite: When your upper and lower teeth fail to align properly, it can create an uncomfortable chewing experience.
Crossbite: When a misalignment in the jaw occurs, it can cause one or more of your upper teeth to overlap and bite into the lower teeth.
How Does Invisalign Works?
Before starting the Invisalign treatment, prospective users are required to have a consultation with an orthodontist or dentist in Katy.
The expert will assess your situation and determine if Invisalign is suited for addressing your specific dental needs.
A personalized plan is designed that takes into account your dental profile, including the severity and complexity of the misalignment.
Once approved, patients receive custom-made sets of aligners that are designed from 3D imaging technology.
Invisalign then works by gradually shifting the teeth over time using a series of custom-made aligners. Each aligner is worn for at least two weeks and will move your teeth to their desired positions.
The duration and number of aligners vary based on individual needs, but typically treatment takes around 12 months.
Ideal Candidates for Invisalign Treatment:
Invisalign is suitable for both adults and teenagers. However, there are certain areas that must be considered in order to achieve success.
Ideal candidates include those with mild to moderate orthodontic issues such as gaps between the teeth, overcrowding of the teeth, or an overbite or underbite.
In addition, patients should not have any periodontal disease, cavities, or other health conditions that could affect the success of treatment.
6 Benefits of Invisalign in Katy, TX:
Every individual's dental structure is unique, and Invisalign can effectively remedy mild to moderate imperfections.
Invisalign in Katy offers numerous benefits compared to traditional braces:
Aesthetics: The most obvious benefit is its discreet nature, as they are virtually invisible and do not require any metal brackets or wires like traditional braces. This makes them ideal for individuals who do not want to have obvious orthodontic treatment.
Comfort: This is a great advantage as the aligners are made from a soft, flexible material that is designed to move teeth while providing maximum patient comfort.
Convenience: Unlike traditional braces, with Invisalign, you can remove the aligners when eating and drinking, enabling you to enjoy a full range of food options.
Fewer Emergencies: As no wires are involved, there is much less chance of developing any kind of emergency as the aligners will not break or become loose like metal braces.
Freedom to Eat Whatever You Want: You can also remove the aligners if needed for specific occasions, such as special meals or important events.
No Allergies: Invisalign is also made from a material that does not contain BPA, phthalates, latex, gluten, or any other allergen-causing substances. This makes them safe for those with allergies and food sensitivities.
Disadvantages of Invisalign Treatment
Invisalign is not suitable for all types of orthodontic problems. It may not be able to correct extreme alignment issues or address more complex medical conditions such as jaw disorders that require other treatment methods.
Requires Consistency: As with any orthodontic treatment, Invisalign requires consistency. Patients are required to wear aligners for 20-22 hours a day in order to see results.
Requires Regular Checkups: Unlike traditional braces, Invisalign requires regular checkups every 6 weeks so that the orthodontist or dentist in Katy, can track progress and make any necessary adjustments.
More Expensive Than Braces: Invisalign treatment may be slightly more expensive than any traditional braces, as it is a newer technology.
Prone to Stains: The aligners can also stain if they come into contact with certain foods and drinks, such as coffee, tea, or dark-colored liquids.
Requires Frequent Brushing: Patients must brush their teeth after every meal or snack to prevent staining and bad breath.
May Require Additional Attachments: In some cases, additional attachments like tiny tooth-colored dots may be required to help the aligners grip the teeth more effectively. While these attachments are generally not visible, they may be uncomfortable at first.
Conclusion:
Invisalign is a great option for those wanting a discreet and comfortable orthodontic treatment without the hassle of traditional braces. With proper care and maintenance, patients can enjoy the benefits of straighter teeth and improved oral health in a shorter period of time.
Residents of Katy, TX, can now choose from a wide range of general, cosmetic as well as restorative dental services. Don't wait to achieve your best smile yet! Schedule a visit to our dental office today and consult with our team of experts to get started on your personalized treatment plan.