Best Children's and Pediatric Dentist Near You in Katy, TX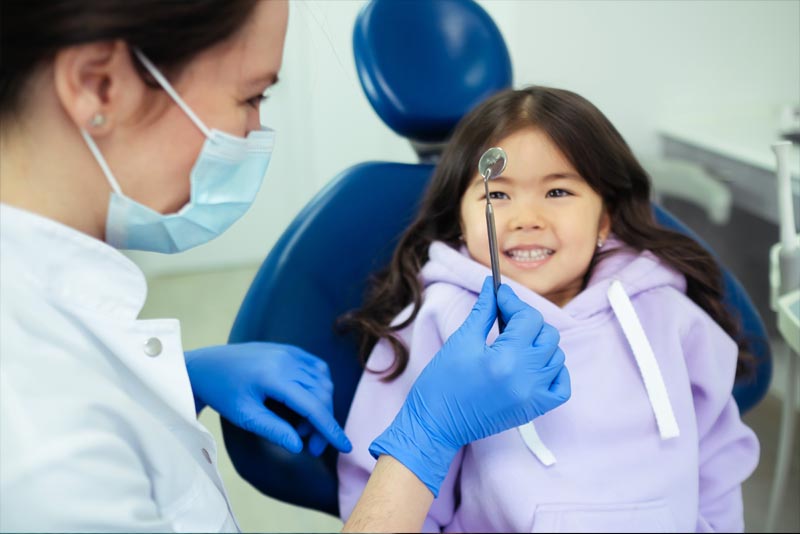 Children need to visit a pediatric dentist at a very early stage in life. This will enable them to retain a clean and healthy mouth and oral hygiene throughout life. It can be made possible by dental professionals who diagnose children's dental issues exclusively. Pediatric dentists study more than the normal dental course. They pursue an extra two-year program to specialize in resolving children's dental issues mainly.
They get trained in areas that include advanced surgical and diagnostic techniques, pediatric psychology, clinical supervision, oral disease, pediatric radiology and pharmacology, child growth, treatment for oral and facial injuries, and young patients with particular care and general anesthesia.
The Role of a Pediatric Dentist in Katy:
Pediatric dentistry can be coined as a necessity for every child. Pediatric dentist in Katy provide care for young children from infancy through puberty. The best pediatric dentist Katy offers many different kinds of treatments.
A dentist who specializes in pediatrics focuses only on children. In addition to gaining dental training, they also receive child psychology training. This helps them interact with kids more effectively.
Services Offered by Pediatric Dentists in Katy:
A pediatric dental specialist offers an extensive variety of treatment choices, as well as skill and preparation to focus on your kid's teeth, gums and mouth.
5 Issues Treated By Pediatric Dentist in Katy:
Help in preventing early cavities in kids.
Cleaning of teeth and help with diet and nutrition are provided.
Help and guidance to get rid of habits such as pacifiers and thumb sucking.
They check if the kids have inherited any risky dental issues.
They check on improper bites and correct them if necessary.
They make sure ulcers, gum infections are at bay.
Is It Necessary for My Kid to Visit a Pediatric Dentist in Katy?
Yes, your child must visit his/her pediatric dentist for the following reasons:
Pediatric dentists check for new or persistent problems with their child's oral health.
Tooth decay will be avoided, thus leading to healthy teeth and gums.
They will teach kids more about quitting bad or harmful behaviors (thumb sucking).
They can help with preventive measures (fluorides and sealants).
Also, they provide updates regarding the growth and development of the child's teeth and jaws.
How to Find the Best Children's Dentist Near You in Katy?
It is pivotal to search and settle for the best children's dentist near you in Katy. But make sure it is near. Then it would be easier for you and your kids to reach the dental clinic on time.
Internet searches and word-of-mouth recommendations are undoubtedly helpful resources, but what more can parents do to discover the finest pediatric dentist?
Get Online Help:

Although the internet offers quick access to information, not all websites are valuable sources. For instance, some websites may promote specific treatments while still including reviews. This indicates that a website is not objective. Additionally, parents need to be wary of paid reviews online for dental services. Reviews frequently give a practitioner an unreasonably positive impression, as they generally do. Visit the website of clinics and check out the testimonials to find reliable reviews and services.

Get Good Referrals:

General dentists are another excellent source for recommendations. He or she is probably familiar with the local pediatrician and may already be regularly recommending them to parents.

Another excellent source for recommendations can be the school nurse. Inquiring about local pediatricians in the area where you are relocating to is another option for parents.
6 Ways to Make Children Safe at a Kids Dental Clinic Near You in Katy:
These early checkups are crucial for ensuring that your child's smile is healthy and that their oral growth is proceeding as it should.
Hide Your Dental Phobia:

Another significant advantage of early dental visits is that they enable children to feel at ease and establish a connection with the office, which facilitates future visits. Research has shown that parents' dental phobia can be passed on to their kids. Therefore, even if you dislike going to the dentist, try not to reveal it in front of your child. Avoid discussing any unpleasant experiences or upcoming treatments that you may have.

Describe the Experience Awaiting the Kid:

Pediatric dental offices are also specifically created with children in mind. Many dental clinics have treatment rooms especially created for kids. For example rooms may contain a TV, some exciting books to read, games, posters and more. It is significantly simpler for parents to create the foundation for long-term oral health when children like to visit the dental clinic and the pediatrician. So, parents are advised to narrate to the children how the kid's dental clinic and the pediatrician will be.

Play a Few Games:

Kids' dentist games can be a wonderfully effective method to demystify the process and prepare them for their first dental appointment.

Carefully Plan Their Initial Dental Appointment:

Choose a time when your youngster is normally happy to schedule their first dental visit.

Positive Reinforcement Is a Must:

If your kid is still scared of the dentist and is going through some confusion mixed with fear then it's time you give them some reassurance. This helps them fight the fears better and face the dentist.

Carry Your Kids Favorite Toy:

Make sure to take your kids toys that he/she seeks comfort in. There are a few dental clinics that have cute little stuffed dolls that can be played with while your kid is in the clinic and kept back whilst leaving the clinic. This technique has helped many kids feel at ease.
Which Is the Best Kids Dental Clinic Near Me Katy?
Family Dental Corner is one of the best kids dental clinic near you in Katy. We also provide services to surronding location such as, Pecan Grove, Greatwood, Richmond, and Rosenberg regions. Dr. Sally A Abouassaf at Family Dental Corner is the finest dental service provider in the region. If you want the services of the "best children's dentist near me Katy", then head to Family Dental Corner. They have excellent ratings, positive reviews, favorable testimonials and almost no negatives. Call us at 832-980-9111 today or browse through our website of Family Dental Corner for your appointment.
---