Why Must You Hand-Pick A Pediatric Dentist To Maintain Your Child's Dental Health?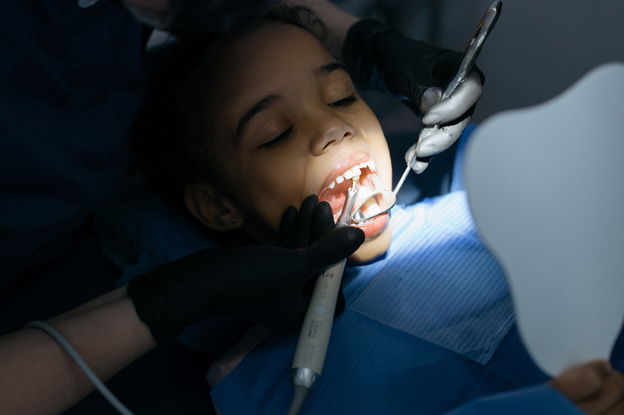 You might have heard a lot about taking your kid to a reputed pediatrician for their wellbeing. When it comes to dental health, your kid also needs a pediatric dentist in Katy to maintain his/her oral health. Because every parent wants to ensure that their kid grows up hale and hearty. In our previous blog, we have explained the teeth whitening procedure and its safety for children in Katy. However, to ensure the best treatment for your kid's dental health, always pick the appropriate and experienced dental expert.
Best Children's Dentist Near You in Katy:
Children's dentists are the ones who are trained and specialized to improve the dental health of your kid. The best children's dentist near you should be a certified one with years of practice and terrific chairside manners.
5 Reasons You Require a Pediatric Dentist in Katy:
Qualified Team:

A primary reason to take your kid to a pediatric dental expert is because he will have a qualified dental team. This team will be child friendly and will be capable of handling the tenderness of a kid. The team will have years of experience in dealing toddlers to teenage kids having different issues.

Advises on Right Oral Habits:

Yes, just taking your kid during dental emergencies to a pediatrician doesn't help. You need to take the little one for regular checkups to get advice on all the requirements. A pediatric dentist in Katy can suggest you to follow the right oral habits which can keep the tiny one healthy. This includes brushing twice a day, flossing, cleaning tongue, massaging gums, etc. The doctor will also advise on eating habits like taking less of sugary items, candies, excess hot drinks, chilled items, sticky gums, etc.

A Pediatric Dentist Only Specializes in Kids Oral Health:

This is possibly the most important reason to take your little one to the pediatrician. Child's dental care also needs specialization since their teeth are always tender and sensitive.

Right Equipment:

Unlike any general dentist, a best children's dentist near you in Katy will always have the right set of equipment to cater to a child's needs. The heavy machinery and instruments are all meant for the young ones.

Right Ambience:

A pediatric clinic has a different ambience compared to a general one. It usually has cartoons, colored designs, color books and lots of toys to play for the visiting kids. This, combined with the pleasant manners of staff and the specialists, will bring down their phobia to a great extent.
Conclusion:
If you are searching for the ideal kids dental clinic near you in Katy, check out the profile of Dr. Sally A Abouassaf who practices at Family Dental Corner. Dr. Sally A Abouassaf's Family Dental Corner provides quality dental service. She is a dentist who possesses immense experience and expertise. Dr. Sally A Abouassaf and Family Dental Corner serves the following locations: Richmond, Greatwood, Katy, Pecan Grove and Rosenberg. Browse through our website of Family Dental Corner or call us at 832-980-9111 to arrange for an appointment.
---