How To Soothe TMJ Pain Relief in Katy For Your Child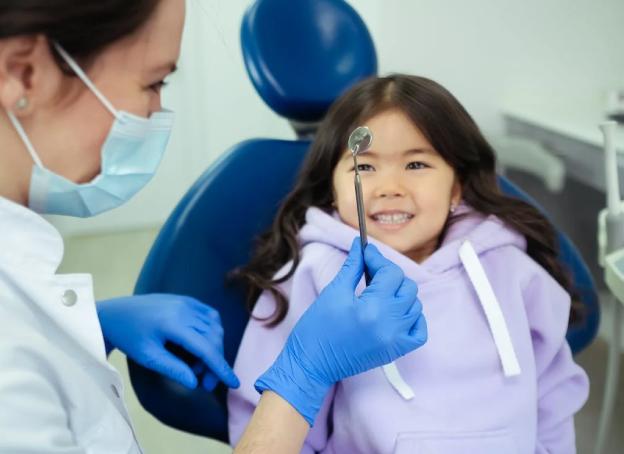 The temporomandibular joints are known as TMJ. These joints and ligaments affect the mobility of the jaw muscles, making it difficult for your kid to open or close their mouth. Furthermore, it hinders swallowing and chewing. Consult with a kid's dental clinic near you in Katy to soothe TMJ Pain. In a previous blog post, we discussed 5 best practices to manage TMJ pain relief in Katy. However, in this blog post, we will understand how to soothe TMJ pain relief in Katy for your child.
What Causes TMJ Disorders Among Children?
Although TMJ disorders are not life-threatening, they can cause severe and long-lasting discomfort surrounding your jawline. Individuals with chronic cases of high-level anxiety, migraine, and previous TMJ conditions are more likely to experience persistent pain.
Some new and controversial research also suggests that women tend to develop TMJ associated with teeth grinding, chronic headaches, migraines, ear ringing, and experience intense pain in the jawline and surrounding mouth chamber. If not correctly treated within a specific time, the primary phase of TMJ conditions can develop into temporomandibular disorder (TMD). Without delay, you must seek expert guidance from the best children's dentist near you in Katy.
Some Early Signs That Your Child Suffers From TMJ Conditions:
Poor bite issues - underbite, overbite, etc.
Past facial or unhealed dental trauma.
Excessive stress and anxiety.
An early phase of arthritis.
Dislocation of the jawbone.
Poor teeth and jawline alignment.
Teeth grinding.
Signs and Symptoms to Watch for in Children You Shouldn't Ignore:
Extreme headaches.
Dizziness.
Inflammation and muscle pain surrounding TMJ muscles.
Ear pain and, in most severe cases, loss of hearing ability.
Tinnitus is a condition that creates a persistent ringing in the ears
5 Effective Ways to Provide Comfort and TMJ Pain Relief for Your Child in Katy:
Incorporate relaxation techniques such as body scans, mindful breathing, and meditation into your child's routine.
Encourage your child to strengthen and practice jaw muscle relaxation exercises.
Discourage your child from consuming chewing gums and help them address nail-biting tendencies.
Prepare softer foods for your child and avoid giving them sweet hard candies or foods that may cause discomfort.
With a pediatric dentist in Katy, you have access to a range of treatment options for TMJ conditions. These include bite guards, muscle relaxants, medications, and orthodontic procedures. Seeking their expertise can help alleviate TMJ-related issues and improve your child's oral health.
Find the Best Pediatric Dentist in Katy for TMJ Relief: Dr. Sally A. Abouassaf, DDS
TMJ conditions affect approximately 10% of adults, leading to chronic pain and potential complications. Early diagnosis is key to preventing further damage and providing lifelong relief. If you suspect your child has been suffering from these conditions, it's essential to book an emergency consultation with a pediatric dentist in Katy at a nearby kid's dental clinic.
Dr. Sally A. Abouassaf, DDS, is a highly experienced dentist serving Richmond, Katy, Rosenberg, Pecan Grove, and Greatwood, TX. With her extensive expertise, Dr. Abouassaf specializes in providing exceptional care and treatment for children with TMJ conditions. If you're seeking relief for your child's TMJ-related pain and discomfort, don't hesitate to reach out to our pediatric dental clinic. We offer a range of services tailored to address TMJ management in children. To learn more or schedule an appointment, visit our website or call our kid's dental clinic near you in Katy at 832-980-9111. Don't let your child suffer needlessly when effective TMJ relief is just a phone call away. Contact us today!
---