How Often Does My Child Need To See the Pediatric Dentist?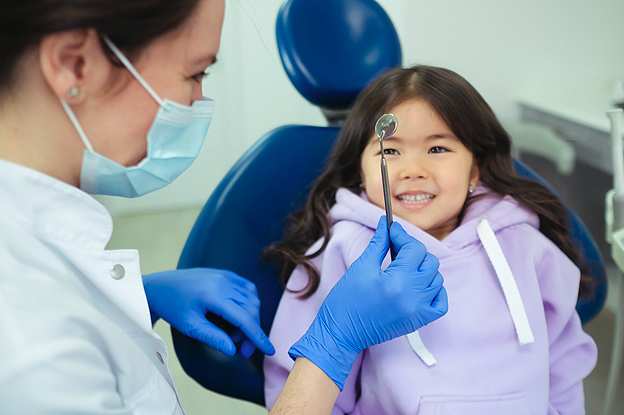 Often visiting a kids dental clinic nearby can be very overwhelming for both adults and children. The atmosphere and types of dental equipment can trigger dental anxiety. It is also very tough for parents to have an understanding of how much dental assistance is needed for their child. In our previous blog, we have explained how often your child requires emergency dental extraction in Katy? Read along to know when you need to visit a pediatric dentist.
Also, parents have various questions regarding the age at which they should start visiting pediatric dentists in Richmond, how often they schedule dental checkups or initiate flossing for their kids. It is very important to understand these factors before visiting a dental clinic.
Are Systemic Visits to a Pediatric Dentist in Rosenberg Necessary?
The best children's dentist near you in Richmond, Dr. Sally A. Abouassaf, recommends a child must visit a dentist before turning one year old and must continue to visit once in every six months. The regular checkup must involve a thorough dental exam, occasionally x-ray, fluoride treatment, cleaning, looking into oral hygiene and inflammation issues, finding tooth decay and cavities. Healthy oral checkups can lead to less frequent dental visits.
Recommended Course of Action if My Child Encounters Frequent Dental Hygiene Problems?
If your child is suffering from recurrent oral hygiene issues such as severe oral inflammation, cavities, or decay of teeth, you must visit the best children's dentist near you in Katy every 3 months. Baby teeth are more sensitive than adult teeth and you must keep a constant check on maintaining a healthy diet for them. Consumption of pigmented food items, sugary foods and beverages must be limited. Also, starting practicing healthy oral hygiene habits such as regular brushing or flossing especially before bedtime is also essential.
3 Factors You Derive by Visiting a Kids Dental Clinic Near You in Richmond:
Your child will have a thorough dental examination that will include teeth cleaning, reducing the formation of fluoride buildup, plaque, and tartar.
Your child will learn the first step towards forming healthy dental hygiene from the best dentist in Richmond.
Diagnosis of hidden cavity and decay, or other periodontal diseases.
Who Is the Best Children's Dentist Near You in Rosenberg?
If you are seeking the best kids dental clinic near you in Richmond to avail the finest pediatric dentistry solutions or emergency dental care, consider Dr. Sally A. Abouassaf DDS and her team at the Family Dental Corner. Dr. Sally A. Abouassaf DDS has exceptional expertise in the field of dentistry. She has served many families in the communities of Richmond, Rosenberg, Katy, Greatwood and Pecan Grove. Browse through our website of Family Dental Corner or call us at 832-980-9111 right away.
---