How Do the Teeth Align With Invisalign?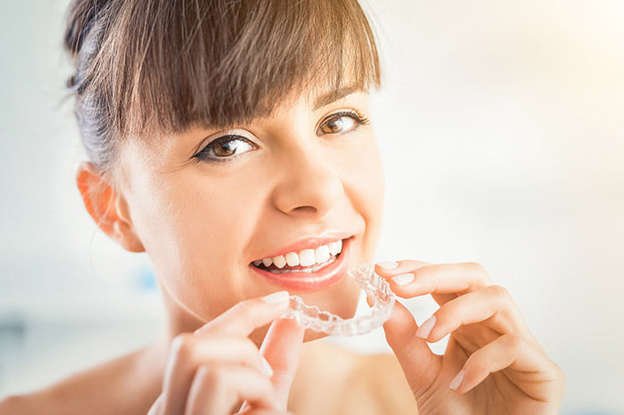 Many individuals suffer from the problem of crowded or crooked teeth. Though orthodontic braces have been in the market to realign the teeth, a new option has emerged: Invisalign. In our previous blog, we have explained the benefits and treatment of Invisalign in Rosenberg. However, these custom-made, transparent, thermoplastic aligners work wonderfully to straighten your teeth.
Invisalign Treatment in Richmond:
It is a dental procedure to straighten crowded teeth. It is a series of clear braces. Invisalign delicately realigns the teeth to the correct position over time. These clear braces can be taken out while you enjoy your meals. Invisalign in Richmond is a preferred choice for many since these are practically invisible. You can witness results inside a few weeks. Many adults and youngsters are preferring Invisalign not just due to aesthetics but comfort too.
How Does Invisalign Work?
If Invisalign is the recommended solution advised by your dentist in Richmond, x-rays and a 3D model of your jaw is taken. Details are transferred to the laboratory to manufacture your clear aligners. The 3D model will help in crafting the treatment plan.
These aligners apply a controlled force during the treatment and these aligners are changed in a few weeks to maintain the right pressure. This is a highly controlled treatment where a specific set of teeth is attached with new aligners. It helps in maintaining good oral hygiene too since it makes flossing and brushing work easy. You can unfasten the aligners when you clean and fasten them after its completion.
Time Consumed by Invisalign in Rosenberg To Straighten Teeth:
Invisalign treatment in Rosenberg could last from six months to eighteen months and is greatly determined by a few factors.
If you have overcrowded teeth or severe gaps between the teeth, expect Invisalign treatment to last up to 18 months. In contrast, minor gaps can be fixed quickly, and the treatment can be completed in 6 months too.
In case of severe crowding or a severe gap between the teeth, the dentist could suggest bonding or veneers. Not wearing the aligners as per the treatment plan can greatly impact the time it might take to straighten the teeth. You must put on aligners nearly for twenty hours out of the twenty four to see immediate results.
Conclusion:
Your overall persona is greatly influenced by your smile and crooked or crowded teeth can affect the appearance. Invisalign is sought after more than traditional braces. If you are looking for the best cosmetic dentistry near you in Rosenberg, Family Dental Corner where Dr. Sally A. Abouassaf practices can assist you in enhancing your smile. Family Dental Corner serves the following locations: Rosenberg, Richmond, Pecan Grove, Katy and Greatwood TX. Dial us at 832-980-9111 to arrange for an appointment right away.
---