Do Porcelain Veneers Cause Dental Sensitivity?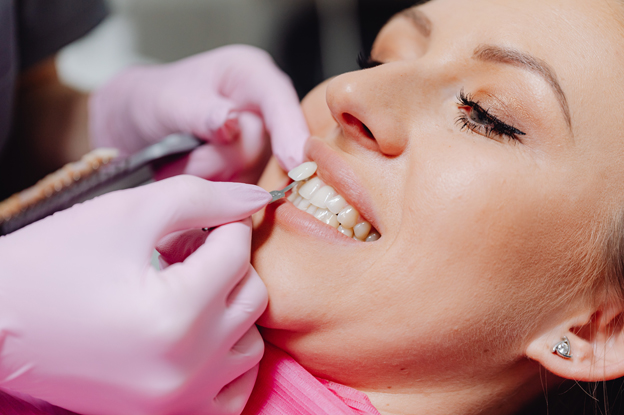 Getting porcelain veneers is the best way to restore your smile and improve dental hygiene. It hides all the imperfections and lets one live a life of ecstasy. The patients visit the clinics of cosmetic dentistry and religiously follow all the suggestions stated by the doctors. In our previous blog, we explained 6 different types of cosmetic dentistry near you in Rosenberg. Read along to know how porcelain veneers cause tooth sensitivity.
4 Effects of Veneers Treatment in Richmond:
There are repercussions of the dental procedure. Some people experience a minor tooth sensitivity and the symptoms are different for everyone. There could be temporary pain that can be prevented by medications and taking other precautions.
Sore Gums:

The porcelain veneers in Richmond could lead to sore gums. You may not experience any sensation in your gums because of the procedure.

Temperature Sensitivity:

The patients might experience hot or cold sensitivity because of the loss of enamel that makes the tooth prone to damage.

Speech Difficulties:

The veneers in Richmond can lead to the inability to pronounce certain words.

Increased Salivation:

As you will take time to adjust to the teeth, the salivary glands might produce large quantities of the saliva.
3 Ways to Keep Dental Sensitivity at Bay With Veneers in Rosenberg:
The emergency dentist in Richmond will suggest some ways to counteract tooth sensitivity.
Brush Often With an Effective Toothpaste:

You can brush your teeth with a desensitizing toothpaste. You can brush after each meal and be gentle with yourself. Do not rush and injure your teeth by over-exerting yourself.

Eat Healthy:

You can avoid eating hard foods such as candies and chocolates. A person might drink liquids at room temperature to avoid tooth sensitivity. Try not to eat sugary food and dishes that contain a high amount of spices in them.

Take Medication:

One could take prescribed medications to ward off tooth sensitivity and get some respite from it.
To conclude, taking care of your teeth is important. If you have got porcelain veneers done on the teeth, it might lead to tooth sensitivity. Different individuals come across problems that they deal with after the procedure. The pain subsides after some days but it is better to take preventive measures to stop the condition from aggravating.
Conclusion:
To avail the best dental services, visit our cosmetic dentistry near you in Rosenberg. The clinic has highly skilled dentists who cater to the dental needs of the people. They can do the surgeries without making the patient wallow in pain. For more call us at 832-980-9111 and schedule an appointment today.
---