Can Invisalign Be Used After a Dental Implant?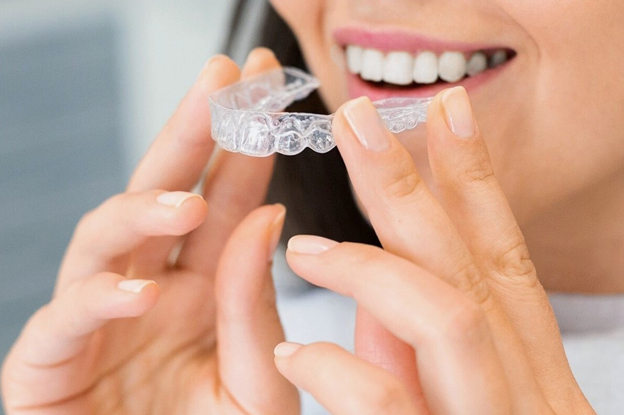 Do you often hide your misaligned or crooked smile while posing for photos? Do you also feel insecure about smiling your heart out in front of others due to your missing tooth? Many people need to replace their missing tooth or get that picture-perfect smile like their favorite celebrity. Invisalign can help you to get your desired smile with the help of proper orthodontic treatment. In our previous blog, we have explained the process of affixing Invisalign in Richmond after dental implants. Read along to know more about both Invisalign and dental implants which can help you have that perfect smile you always wanted, stick to the article until the very end.
How Can Invisalign and Dental Implants in Richmond Function Together?
Dental implants, their positioning and shape will be permanent. Despite that, the area surrounding the teeth will continue to change and adjust. Orthodontic procedures like Invisalign in Richmond are very effective in functioning with implants and dental bridges or dentures. Invisalign can function even under various oral health scenarios.
3 Situations Invisalign Won't Operate:
If there is negligible space for the natural teeth to function correctly
If there is a need to install more than two dental implants
If the implant is situated very close to the malocclusion
Clear aligners can adequately work with implants. The dentist in Pecan Grove, will wait until the healing of the surrounding area of the implant. This is because proper healing alone allows the Invisalign to correctly align with natural teeth.
How Does Invisalign Work With Dental Implants Rosenberg?
As per the dentists, getting Invisalign in Rosenberg before the dental implants is better. It will create a better orthodontic experience for you. It can produce more mobility and can help your implant permanently.
But certain conditions can cause problems while undergoing the process of dental implants in Rosenberg. The dentist will follow the procedure in a proper sequence to maintain the position of the implants.
Conclusion:
If you are searching for the number one cosmetic dentistry near you in Rosenberg to avail the finest dental procedures, then approach Dr. Sally A. Abouassaf D.D.S is the topmost dentist. The specialist team at the Family Dental Corner led by Dr. Sally A Abouassaf provides great dental service. Dr. Sally A. Abouassaf has practiced dentistry procedures for many years. He serves communities surrounding Richmond, Katy, Rosenberg, Pecan Grove, and Greatwood, TX. For more details call us at 832-980-9111. Browse through our website to arrange for an appointment or go through the testimonials of our previous patients.
---