Full Dentures in Katy: The Right Investment for Priceless Smiles
Smile is a curve that sets everything straight!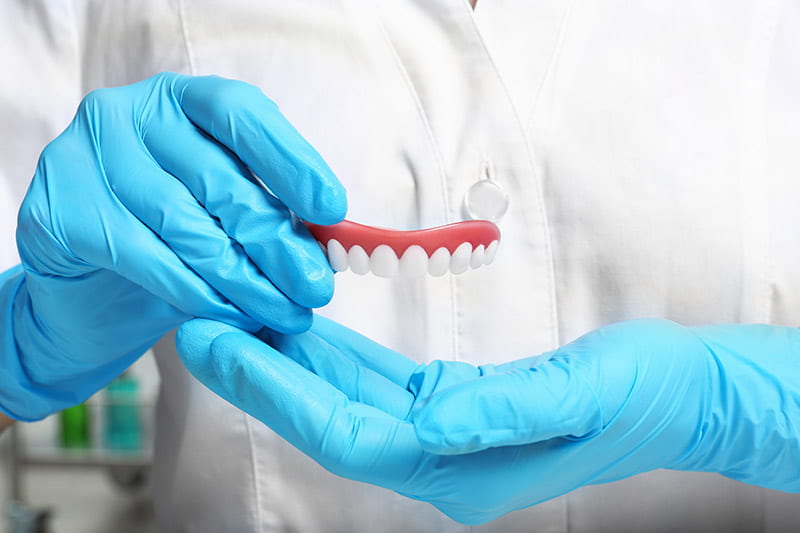 Are you worried about your missing teeth and the lack-lustre smile? Don't worry, full dentures in Katy with Dr. Sally Abouassaf's restore your lost teeth and set that curve smiling again!
What Are Dentures?
Dentures are artificial teeth that are substitutes for lost teeth. Teeth are vital for an appealing profile. If teeth are missing, the facial muscles age and you look old. Full dentures treatments in Katy are done for people who have lost their teeth for various reasons.
Are You an Ideal Candidate for Full Dentures in Katy?
If you miss your teeth due to gum infection, or by accident, or if you have difficulty chewing, then, you must opt for dentures.
3 Checklist To Know if You Need Full Dentures in Katy:
Gum Infections:

Gingivitis and Periodontitis can be diagnosed early, but sometimes the damage could go beyond treatments. In such situations, yourgumsmaylosetightness and teeth could fall out eventually. In such cases, dentures are strongly recommended.

Cost Effective:

If you miss one or two teeth, implantation is a choice. But at times. the price could go high. In such a situation, full dentures in Katy arethbestchoice. Even though they may not be as perfect as implantation, the same purpose can be served in a more cost effective way. Youcanalsoconsider it a a temporary option until the extracts get healed.

Tooth Infection:

Dentures can be used in the case of infected teeth. Tooth infection is a serious issue. After removing the infected tooth you may feeldiscomfort.Ithat situation full dentures are a pocket-friendly option. You can replace natural teeth with dentures.
Which Type of Full Dentures in Katy Suit You?
Dentures are helpful to restore your natural smile. Dentures can be a complete replacement or partial. If all of your teeth are missing, choose full dentures in Katy or else you can opt for partial dentures.
Full Dentures:

Full dentures are made of plastic base, that replicates gum tissues and support proclean teeth. This treatment is more expensive than partial denture.

Partial Dentures:

Partial dentures support the natural teeth that need to be replaced. They are made of metal or plastic as required by the dental condition or choice. Traditional metal frameworks are the most commonly used dentures to support gums.
Finally dentures are the best option to improve your self esteem. Think about a situation where you are forced to hide your smile, that surely affects your confidence. That in turn impacts your career and social life. Our team is dedicated to improving your confidence by fixing proper dentures for you.
8 Types of Full Dentures in Katy:
Conventional: This is the traditional method of fixing full dentures in Katy. Dentures are fixed once your decayed teeths are removed. This method is applicable only after the wounds are healed properly. After a tooth is lost, bones and gums fill the space which causes delay in healing the wound. Hence it takes several months to fix dentures in the conventional way.

Implant Supported Denture: In this method, implants are used to support the dentures. They give a natural look and last longer as well.

Immediate: In this process, once the teeth are removed, the dentist fixes the dentures the same day itself. Prior to that, during your previous visit, the doctor would have taken the measurement of your gum to set the dentures. The main advantage of this method is that you can avoid the embarrassment of going around without teeth.

An immediate full dentures treatment in Katy should start 4 to 5 weeks before the procedure. Doctors design a customized mold in the laboratory that is kept ready for the day when your teeth are removed.

Snap-In-Denture: The most effective choice to fix the denture and maintain stability. They are attached to the natural teeth with the help of an anchor or implant. Snap-in dentures can be used even when the patient doesn't have natural teeth but the bones are strong enough to support.

Custom: Customized full dentures in Katy are the most expensive, giving the most natural look. You get to see the customized denture and approve before the process.

Over Denture: An overdenture is a removable option that is placed on top of the gums and is held in place with the dental implants. Over denture can be placed on top or lower jaw according to the need of a patient.

Economy Dentures: They may not give you a natural look or perfect comfort. But you may opt for economy dentures if other full dentures in Katy are not affordable.

Upper Denture: Upper dentures are exclusively for the upper jaw. If you miss teeth only on the upper jaw, upper dentures are the best solution.
6 Treatment Process for Full Dentures in Katy:
In the initial visits, have a discussion with our team of dentists about the option you need. They will examine your teeth and decide your oral health.

Through detailed examination, we assess the health of the soft tissues and recommend the best one that suits you.

During the next visit the doctor takes one more impression that is made of study casts. These are custom made and help to achieve accurate results.

Jaw registration is also done in this stage, where you bite into an impressionable gum-like material.

Once the measurements are done, the next stage is to set the mould. A wax mould is used if you've opted for acrylic. If you have chosen for a metal based denture, then a metal mould is used. You can decide the shade and shape of the denture.

During the final visit custom made full dentures in Katy are fixed in your mouth to give a new look. You can leave the clinic with a pleasant smile.
Benefits of Choosing Full Dentures in Katy:
Dentures are excellent options to improve your look and confidence even if you don't have a healthy jaw or teeth.
Change The Look:

A missing tooth changes the appearance of a person. Without the teeth, the face looks sunken.

Shifting Teeth:

In the case of a missing tooth there may be a situation where a neighboring tooth shifts to the empty space. Using full dentures in Katy helps to fill the gap and avoid this shifting of teeth.

Easy to Clean:

Dentures are easy to clean. You can maintain oral hygiene by cleaning inside and outside of the dentures.
Visit Our Clinic for Full Dentures Treatment in Katy:
A beautiful smile is a universal language. Dentures help to restore your smile in the most cost-effective way.
If you are considering full dentures in Katy or suffering from any of the above teethconditionsmentionehere, do not hesitate to fix an appointment with us. Our dental experts will help you understand the process and choose the bestpossibleoption foravivacious smile! Call us at 832-980-9111 to talk with our experts.
FAQs ABOUT FULL DENTURES:
Will Full Dentures Look Natural?
Certainly! Full dentures are now designed to look remarkably natural, closely resembling your original teeth and gum tissues. Dentists collaborate closely with patients during the process, carefully selecting the appropriate size, shape, and color of the denture teeth to achieve a pleasing and lifelike appearance.
Do Full Dentures Require Any Special Care?
Yes, full dentures require proper care to maintain their longevity and hygiene. Regular cleaning is essential to prevent plaque buildup and oral infections. Remove and clean dentures daily using a denture brush and mild soap or denture cleaner.