Porcelain Veneers in Katy, TX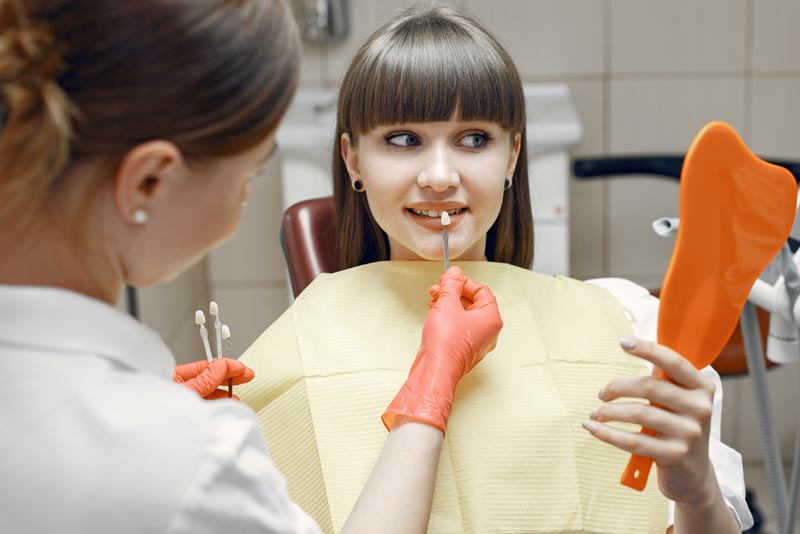 Performers and celebrities have utilized veneers to improve their smiles for decades. Ever since its first veneer's creation, cosmetic dentistry has evolved and polished the technology, and porcelain is now routinely used as the base material for veneers.
Today, these porcelain veneers are accessible to everyone. Hence, getting a set of perfect teeth is no more a far-fetched dream. Periodontal veneers are an effective tool which several dental professionals have recommended to their patients to resolve a wide range of dental health issues. Dental veneers have repeatedly shown to be among the most flexible tools in the toolkit of dental professionals to encourage your teeth to repair and regenerate naturally. Read on to discover more about Porcelain Veneers in Katy.
What Are Porcelain Veneers?
Charles Pincus created the first porcelain veneers as part of an actor's costume to alter his grin for a film shot in 1928. A removable adhesive was used to secure these veneers. Later, individuals in Hollywood began to adopt longer-lasting acrylic veneers, although they were still readily broken and required regular replacement.
Cosmetic dentistry still utilizes the very same etchant and binding procedures today, but they are combined with high grade, durable porcelain veneer components that far more closely mimic healthy, natural smiles. Once installed, porcelain veneers can endure for up to 30 years before needing to be remediated. Today, porcelain veneers consist of a narrow strip which remains attached to the surface of the tooth. They are designed specifically for the person receiving them, considering the patient's teeth size, structure, and color.
While porcelain veneers in Katy are commonly utilized for aesthetic purposes, they could also be used for restorative purposes. They may be less intrusive than installing a whole dental crown. Veneers only coat the tooth's surface.
Since veneer adheres to the person's natural tooth, it is a great option for restoring existing teeth instead of replacing them with just an implant or prosthesis.
How Do Porcelain Veneers in Katy Operate?
Veneers cover your natural teeth with a paper-thin porcelain layer or a related composite material like composite resin. They are placed by cutting 0.3 to 0.5 millimeters of the tooth surface in order to maintain the nerve and retain the tooth at full strength. This guarantees that your veneers will last for a long period and that there would be little to no difficulties renewing them if needed in the future.
You do not need to overlay each tooth with such a veneer, only the troublesome ones and sometimes the adjoining teeth need veneers. Your dentist will give the greatest advice as to how many single veneers you need. They adapt their form and hue to the natural teeth that surround the veneers.
Additionally, depending on the dental issues you want to resolve, and your oral health, you can go for full veneers. They cover the tooth completely. Or else, partial veneers which just replace broken or stained regions can be opted for.
Many people just veneer the front teeth (top, bottom, or both) since they are the most apparent.
Signs You Are an Eligible Candidate for Veneers in Katy:
Are porcelain veneers a good choice for your teeth? Even though veneers in Katy are largely an effective solution for many individuals, they are not the default option for everyone. Anyone willing to enhance the smile is a contender for veneers.
Your natural teeth's color, shape, and size can all be altered with veneers. Although your teeth may not be remarkable, if you have healthy teeth and gums or bone structure, you are most likely to be a good candidate for veneers.
7 Dental Issues That Can Be Resolved With Veneers in Katy:
Staining
Chipping
Crowding bite problems
Thin and uneven teeth
Fluorosis or antibiotic staining
Spacing issues
Old fillings and repairs
Since veneers are a personalized procedure, a good cosmetic dentist offering cosmetic dentistry near you in Katy service will work with you to correct any issues with your teeth using porcelain veneers.
5 Benefits of Porcelain Veneers in Katy:
There are multiple benefits of using porcelain veneers. Some of them are as follows:
Many Color Choices:

Porcelain veneers can make your teeth whiter. They may be glazed in a range of colors, so if you only have a couple of veneers glued to your smile, you may match the color to existing natural teeth. If you decide to install veneers on each and every tooth, the color of the veneers can be lightened multiple shades, resulting in a whiter grin.

Minimal Maintenance Needed:

With regards to stain resistance, porcelain veneers outperform resin veneers. They too are non-porous and hence they resist cavities unlike the enamel of the natural tooth. Porcelain veneers are regarded as minimal maintenance since they are tough to discolor.

Resembles Natural Teeth:

Porcelain veneers may be so similar to real teeth that almost all people would not be able to tell the difference. The days of big, false smiles are finished.

Endurance:

95 percent of porcelain veneers survive ten years or longer without chipping or cracking. Such ceramics are so tough that they may be employed in high-tech applications like protective coatings and tank armor.

Quick Procedure:

Because they are completed in about a month, the term "immediate orthodontics" is commonly used to describe porcelain veneers.
How Much Do Porcelain Veneers Cost in Katy?
Porcelain veneers can be seen as a long-term investment. They are not inexpensive. When you think that they may live for up to 20 years, the cost becomes more manageable.
A porcelain veneer might cost anywhere between $925 and $2,500 per tooth. The average cost per tooth is roughly $1,500. This price will change based on your individual needs and your location. A porcelain veneer is most usually deemed as a cosmetic procedure by dental insurance providers and hence is not covered or just partially paid for.
Conclusion:
So a great news would be that you don't have to have your entire mouth veneered. Depending on your demands and finances, you may simply need a few teeth veneered. Dr. Sally A. Abouassaf and her team at Family Dental Corner provide the finest veneers in Katy. Family Dental Corner under Dr. Sally A Abouassaf, serves the following locations: Richmond, Katy, Rosenberg, Pecan Grove, and Greatwood. Browse through our website of Family Dental Corner to gather more information about our services and testimonials. Call us at 832-980-9111 to connect with Family Dental Corner right away.
---