Dental Problems Can Make It Difficult To Enjoy A Nice Meal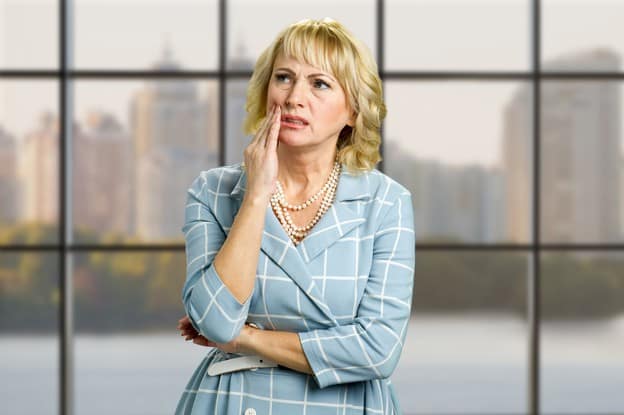 After taking the time to prepare a nice meal, or after taking a trip to your favorite restaurant, you can be eager to enjoy a favorite dish. Unfortunately, you have an untreated problem with your oral health, that enjoyment could be complicated by dental discomfort. Patients sometimes have pain or limited biting and chewing function because of pain in a particular tooth. In other cases, the pain can be more general, and based around troubles with your jaw. Your Richmond, TX dentist can identify the reason for your troubles, and recommend an appropriate solution. The right restorative dental treatment can help you return to comfortably enjoying your meals!
Untreated Jaw Problems Can Make Biting And Chewing Difficult
TMJ dysfunction affects many people. While the reasons for TMJ dysfunction can vary between patients, there are some consistent symptoms that you can be mindful of if you think this issue might be affecting you. The problem can affect how easily you can move your jaw as you bite and chew food. It can also interfere with your daily life in other ways – you can experience headaches, stiffness and pain in your neck and shoulders, or suffer from teeth grinding. A custom appliance from your dentist can help you relax your jaw joints and muscles, and correct the matter.
Dealing With Teeth That Are Sore Or Sensitive
If a specific tooth feels too sensitive or painful to handle biting and chewing pressure, the problem may have to do with tooth decay. Untreated cavities that have time to spread can reach your pulp, and infect the living tissues supporting that particular tooth. At this stage, a root canal treatment is required. This treatment can put a stop to a problem that could eventually spread beyond your tooth, and leave it so damaged that you need an extraction!
Don't Let Tooth Loss Rob You Of Your Ability To Bite And Chew Comfortably
If you have lost one tooth, or multiple teeth, you can be well aware of how this issue can affect your dental function. Talk to your dentist about using dental implants to restore your smile. With implants in place to hold restorations, it becomes possible to enjoy the cosmetic benefits of prosthetic work, while also making it possible to bite and chew with your restored smile!
Talk To Family Dental Corner About Addressing Your Dental Problems
Family Dental Corner is ready to help you address the dental problem, or problems, that hold you back from comfortable biting and chewing. Our Richmond, TX dental practice can offer patients modern answers to the kinds of oral health problems that intrude on their quality of life, and we are ready to help you! To learn more about us, please call Family Dental Corner in Richmond, TX, today at 832-980-9111.
---