Searching for a Pediatric Dentist? Remember These Seven Tips!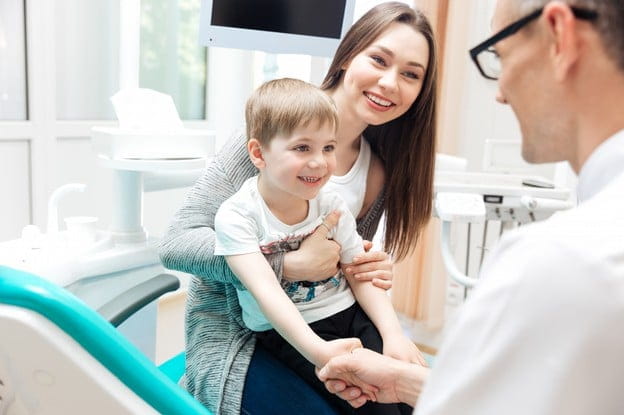 Every parent's worry is to be able to choose the best pediatric dentist in Pecan Grove for their child when he/she is ready to meet the dentist.
Parents must consult a pediatric dentist before the first birthday of their child. Children get baby teeth which will eventually fall out, but it is best to start dental visits early. However, many are not sure how to fish out the best pediatric dentist in Greatwood!
In our previous blog we have explained about finding the best children's dentist near you in Richmond for kids. Let us look at some important tips a parent should not forget while looking for a kids dental clinic near you in Richmond, and Rosenberg. Just in case you live in-and-around Richmond, then Family Dental Corner where Dr. Sally Abouassaf practices would be a good choice.
7 Tips to Find the Best Pediatric Dentist in Richmond and Greatwood:
Check Out The Qualifications and Services:

Pediatric dentists in Richmond and other areas are different from family dentists. They specialize in treating children and children with special needs. They study four years of dental school and get an additional two to three years of training. They learn to treat children with extra care and tactics.

Check the Location:

Hand-pick a pediatric dentist who is located nearby your home or the office. The closer the kids dental clinic near you in Richmond, the lesser the dental anxiety. For example, you can check out the distances of different pediatric dentists near you on Google Maps.

Gather Recommendations:

Call other parents in your area just in case you are looking for a pediatric dentist in Katy and ask for recommendations. Good recommendations and very honest testimonials will give you more confidence to choose the best children's dentist near you in Katy.

Check the Online Reviews:

Go online and scrutinize the feedback especially from parents. The dentist's ratings will also be on the website. Online reviews impact parents since time spent online is high.

Get an Appointment:

Schedule an appointment with your pediatric dentist in Rosenberg. A physical visit to the kids dental clinic near you in Rosenberg will help one check out the ambiance, talk to the staff, and ask questions with the pediatric dentist.

List Out Your Expectations:

Being a responsible parent, you should have a checklist in mind. Match whether the essential expectations regarding the pediatric dentist in Greatwood you hand-picked are met or not.

Emphasis Preventative Care:

The best pediatric dentists will always emphasize preventative treatments like sealants and fluoride. Check whether the best children dentist near you in Richmond prevents issues before hand and not just fixes the issue after it appears.
Conclusion:
If you require the service of pediatric dentists in Richmond, and surrounding cities such as Katy, Rosenberg, Pecan Grove or Greatwood, consider Dr. Sally A Abouassaf at Family Dental Corner. Inspect our website to schedule an appointment or for a conversation today.
---